Enterprise Day 2016 at Babble Research, Solihull 
Youngsters from Cranmore Infant School in Shirley, Solihull, enjoyed a taste of the working world as part of a special enterprise week project developed by teachers.
Children were set the task of raising money for new school books. They could decide on their own way of raising money. Some classes decided to be creative by making things to sell, while others had exciting sponsored events.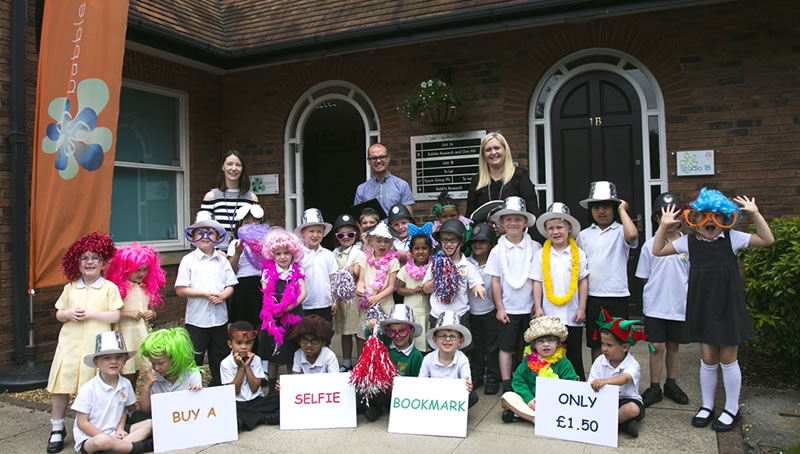 Each class was set the task of creating an advertisement to promote their class fundraising initiative (preparing advertisements to be recorded). The school were very fortunate to have a visit from the Managing Director of Babble Research- Mrs Debbie Newbould. She provided valuable advice to the children on how to promote their event/product.
All classes were then invited by local company Babble Research to use its state-of-the-art studios to record their promotional adverts – with their activities streamed live via the internet to staff and pupils watching at school.
Babble Research is the in-house studio facility used by One-MS, the Solihull-based qualitative research company that has a UK and global client list including popular brands Sharwoods, NIVEA, Carling, Beko and Müller.
FIND OUT MORE ABOUT OUR ENTERPRISE DAY...
Rebecca Ward, Head Teacher at Cranmore Infant School, said: "It's been an exciting week and we are very proud of our pupils.
"It's also given children the experience of what it's like to work in business – and the facilities at Babble Research were superb and very professional. One set of children sat in a sound-proofed room and watched through a special glass panel as other children recorded their advertisements.
"They've been able to learn about topics such as market research, branding and advertising. But they've also learned the value of collaboration and teamwork and developed communications skills.
Stewart Lindsay, Facilities Manager at Babble Research, said: "In a normal working week we host market research facilities for client products ranging from luxury cars and beauty products to fish-fingers and beer.
"Today was very different – and it was great to see the kids being so excited and enthusiastic and really getting involved in the project.
"It's important for both Babble Research and One MS to get involved as businesses in the local community and who knows, the next Sir Alan Sugar or Sir Richard Branson might emerge from Cranmore Infants!"